This will delete you message, are you sure ?
This will delete this thread, are you sure ?
Forum : Music : THE DIZZY BRAINS EN TOURNÉE
Xrayprod [fr]
Post:
32
Status:
Last track:
[URL=http://s70.photobucket.com/user/goloom/media/DIZZY_THE_AFFICHE_2016_DOC_zps8ogjtiso.jpg.html]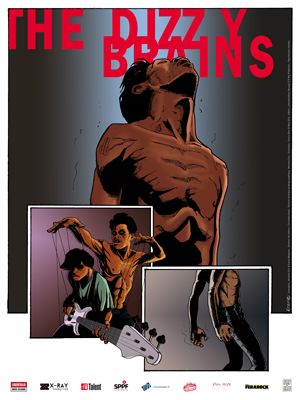 [/URL]
?REGARDEZ LA SESSION LIVE FIP DE THE DIZZY BRAINS :
http://www.dailymotion.com/video/x3h7duy_the-dizzy-brains-live-session-aux-trans-musicales_music
Fondé en 2011 par 2 frères, Eddy au chant et Mahefa à la basse, ce quatuor joue un rock garage qui a séduit les Trans Musicales. Tout se passe à Tananarive, capitale de l'île de Madagascar, un des pays les plus pauvres, corrompus et dangereux du monde. En attendant le 1er album The Dizzy Brains « OUT OF THE CAGE » prévu pour le 06 mai 2016, ces gueules d'amour de 20 ans et quelques transcendent leur quotidien sur fond de guitares déchainées à faire rougir leurs contemporains occidentaux. Leur EP «?Vangy?» est disponible depuis le 04 décembre 2015. L'esprit rock reprend ici tout son sens?!
?TELECHARGER l'EP DE THE DIZZY BRAINS ICI:
http://shopxray.com/the-dizzy-brains/402-vangy-ep-cd.html
?THE DIZZY BRAINS EN CONCERT :
- 16 Avril 16 : Le Printemps De Bourges / BOURGES
- 13 Mai 16 - Coopérative de Mai / CLERMONT FERRAND (63)
- 14 Mai 16 - Staccato / MIRAMONT-DE-GUYENNE (47)
- 19 Mai 16 - Canal 93 / BOBIGNY (93)
- 20 Ma 16 - File 7 / MAGNY LE HONGRE (77)
- 21 Mai16 - Le Plan / RIS ORANGIS (91)
- 25 Mai16 - Le Vauban / BREST (29)
- 26 Mai16 - Festival Indigènes / NANTES (44)
- 27 Mai 16 - Temps Machine // TOURS (37)
- 03 Juin 16 - Festival Le Sakifo - LA RÉUNION
- 09 Juin 16 – LES ARTEFACTS - La Laiterie - STRASBOURG (67)
- 21 Juin 16 - Chato'do - BLOIS (41)
- 25 Juin 16 - Festival Rencontres Et Racines - AUDINCOURT (25)
- 26 Juin 16 - Festival Catalpa - AUXERRE (89)
- 5 Août 16 – Le Chien À Plumes – LANGRES (52)
- 27 Août 16 – Festival Du Roi Arthur – BRÉAL SOUS MONTFORT (35)
?FACEBOOK – THE DIZZY BRAINS : http://www.facebook.com/thedizzybrains.pageofficielle